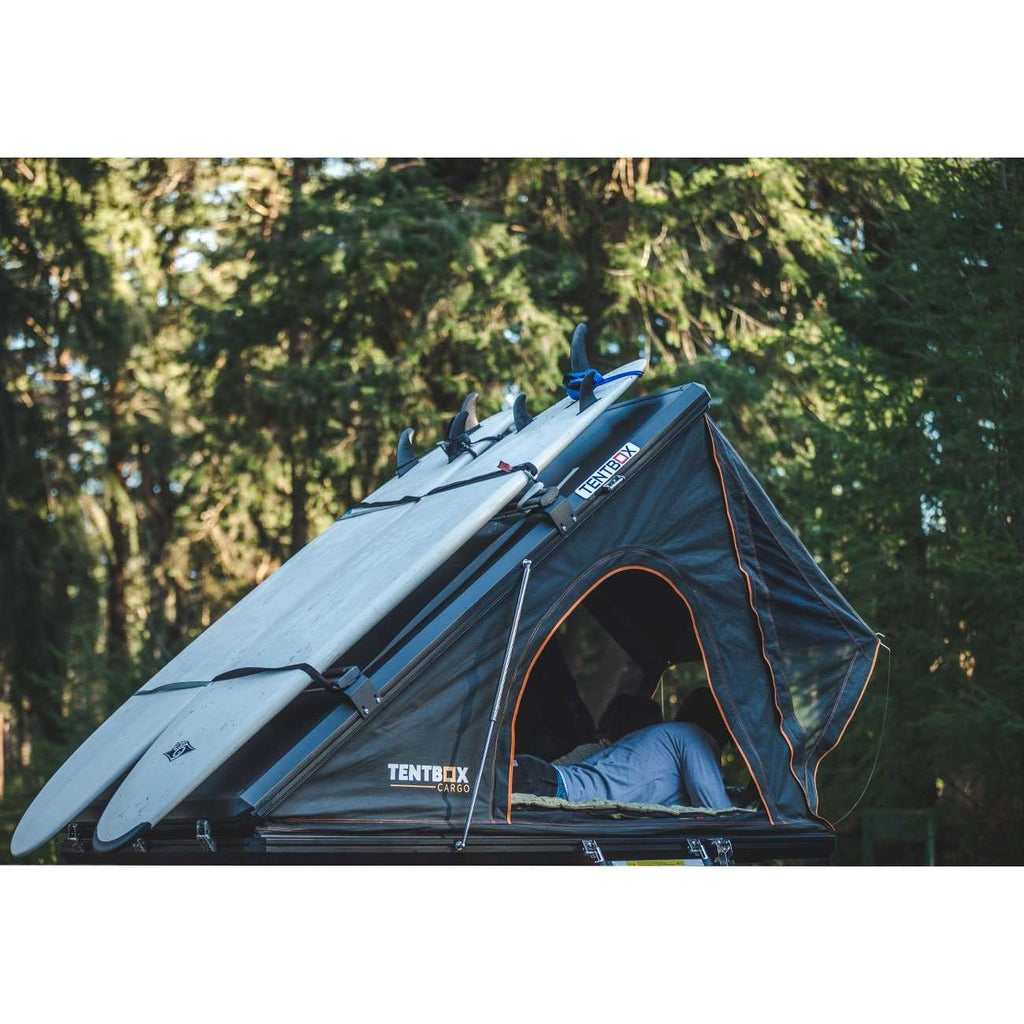 Roll over image to zoom in
TentBox Cargo Rooftop Tent
The thinnest Tentbox rooftop tent to date, whether you drive a kombi van, Caravelle or a work van, the TentBox Cargo is a comfortable and practical option to quickly transform your...
$3,373.00 $3,408.00
The thinnest Tentbox rooftop tent to date, whether you drive a kombi van, Caravelle or a work van, the TentBox Cargo is a comfortable and practical option to quickly transform your current set-up into a camper. The TentBox Cargo also includes bars for the roof of your car, making it easier to take it with you wherever you are traveling. 

The TentBox Cargo can be accessed from either the side or the back, it has the perfect space for two.
Wylies Outdoor World's owner 'Drew Wylie' owns one of these himself, if you follow us on Facebook or Instagram you will see many posts, videos and photos of the Tentbox Cargo being used all over the UK on Drew's weekly adventures 
Below you can see the TentBox Cargo on our own Landrover Discovery 3 
Please note that due to the size of this item, it takes an extra few days to get these delivered.
Specifications:

External Dimensions when closed: L214 x W125 x H30cm
Internal Dimensions: L210 x W124 x H95cm
Weight: 70kgs
Outer Hard-Shell Material: 

reinforced fibreglass

Fabric Material: 

320gsm rip-stop poly-cotton canvas, with an external PU coating
Features:
The 

fibreglass roof is completely impermeable and rainwater runs straight off it and away from the fabric walls.

The walls are waterproof, breathable, rip-resistant, and thicker than a regular tent

The material can be re-proofed, using any standard canvas re-proofer

The mattress is made from high-density memory foam

The mattress is 6cm thick and comes with a removable, washable cover

There is a large overhead net, perfect for putting fairy lights and storing clothes

Also two double hanging pockets on either side, next to your head

The tent has one large panoramic window at the front, and one at the back

Both windows have a permanent fly screen and a canvas flap, which can be zipped open or closed

There are two doors on the TentBox Hard Shell, one on each side

The ladder is made of aluminium and slides to the required height

The maximum height of the ladder is 230cm / 90.5inches

The ladder can be used to access the roof tent through either door

The TentBox Hard Shell is held shut using an extra-safe 8-point system
Price Match Promise
Here at Wylies Outdoor World your business is important to us, we believe in offering our customers the best service we can achieve at the most reasonable price we can manage without "cutting corners"
Unlike many other retailers we purchase the products we sell and use them ourselves over long periods of time to be able to offer you the best advice we possibly can from our own first hand experience using our products in all the weather conditions the UK can throw at us. The cost of purchasing the products, the time invested in testing these products, and all the equipment necessary to film this is covered by your orders through the Wylies Outdoor World website.
With these additional costs in mind we do our very best to be as competitive as possible, without hindering our ability to continue without "cutting corners" in the high level of service you have come to expect from us.
Our postage charges are for NEXT WORKING DAY delivery as standard via DPD upto the weight of 30kg (UK mainland only) FREE for all orders over £100 all shipments are fully insured, tracked with data provided to you so you can track your order with us.       
Our promise to you!  
If you do find any of our products cheaper elsewhere, from a UK based retailer that has the item instock, available for immediate dispatch via a next working day courier service  we will match our competitor's price including the same or comparable courier service shipping costs (UK Mainland Only) and in addition, give you a discount code for your next purchase with us!  
How to claim your price match
If you do find one of our products cheaper on a competitor's website it is easy to claim your price match refund. Simply call us on 01333632273 or message us through our contacts page.  
Please include the following in your email so we can process your Price Match request. 
The specific product's name, any variation such as size or colour.
A link to the product on the competitors website      
Confirm that you are aware that you have checked the competitors next working day courier service cost 
We will check the link, confirm that we can honour the price match promise and manually refund you any difference after you have completed your purchase provided your request meets our terms and conditions outlined below    
Terms and Conditions
Price match only applies to products purchased online.
The competitor must be a UK registered company   
The competitor's product must be identical to the one sold by Wylie's Outdoor World including brand, model, size, colour etc.
The product must be in stock, and available for immediate dispatch with the competitor  
 We will only price match comparable courier services (Next Working Day)  the service we use as standard
The price match promise only applies to brand new products. Returned, Used or reconditioned products are not included 
No "Grey Market" goods are covered by our price match promise 
Any website pricing errors on either Wylies Outdoor World or the competitor's website are excluded from the price match promise as well as typographical errors, affiliate offers, voucher codes, gift vouchers, and any other media discounts 
We do not price match resellers or auction sites such as eBay. Amazon.co.uk, factory outlets, home shopping networks, and liquidation sales are also excluded from the Wylies Outdoor World's price match promise
The additional discount offered on your next purchase is offered based on your purchase history with us, the exact amount will be at our discretion, We reward our loyal customers more!
Wylies Outdoor World's decision will be final on any claims made under our price match promise
We reserve the right to withdraw or refuse our price match promise if we feel we will be at a loss by completing the sale
 These terms and conditions do not affect your statutory rights
We reserve the right to withdraw or refuse our price match promise if we feel we will be at a loss by completing the sale
 These terms and conditions do not affect your statutory rights
Seller Info
Wylies Outdoor World
Rating: 5 Star based on our Social media ratings.

Price Match Promise!
Found it cheaper? We will price match and give you 5% off a future order!
Trade Discounts
We offer discounts for Scouts, Forrest Schools & other outdoor activity groups
The Personal Touch
Speak to Wylies Outdoor Worlds owner and chief product tester Drew Wylie directly
What makes us different from other retailers?
We test as much gear as humanly possible on our own trips 4 nights a week, every week... Regardless of the weather! We also offer more free after sale services than any other retailer in the UK such as free training, one to one, tutorials, group meets and product demos, with the cost covered by our sales! When you buy from us rest assured that our recommendations have been used heavily in rain, windy conditions, sleet, snow and of course the 15 degree Scottish summer! Add to your kit, don't replace items that don't stand up to the task!
UK MAINLAND SHIPPING SERVICE
All UK Mainland orders are shipped Next Working Day, Tracked, fully insured, and Signed for via DPD as standard.
Your tracking details are provided via email after we pack up your order.
UK MAINLAND SHIPPING COSTS
UK mainland orders over £100 are FREE Next working day delivery. Orders Under £100 are charged at £5.99 up to the weight of 30kg Next working day delivery
INTERNATIONAL SHIPPING
We do international shipping on request, please just drop us an email with your
Name
Full Postage Address
Contact Number
We will get right back to you with an exact quote as quickly as we can!
AGE VERIFICATION ITEMS
Due to recent changes in the Laws regarding distance selling of bladed tools, we will require photographic identification prior to dispatching your order if it contains an age-restricted item.
HOW WE DO THIS
After you make your purchase we will send you an automated email with simple but detailed instructions on how to complete this process. Not to worry you don't need to be a computer whiz kid and it only takes a couple of minutes!
NOTE: PLEASE BE AWARE THAT NO ORDERS REQUIRING AGE VERIFICATION WILL BE DISPATCHED UNTIL THIS PROCESS IS COMPLETED.